CyPlus: A Leading Role in Making Cyanide Safe
At the company's head office in Hanau-Wolfgang, near Frankfurt, Managing Director Frank Harenburg and Stephen Gos, Manager - Technology Solutions, explained why they believe CyPlus GmbH is the pacesetter for progress and sustainability in the production and utilization of cyanides in mining and other industries.
CyPlus was formed in 2003 to focus on cyanide technology and the needs of cyanide using customers. A spin-off from the former Degussa mining chemicals business, the company can draw on more than 100 years of cyanide manufacturing. It is wholly-owned by the Evonik Industries group and shares the industrial park where the head office is located with the group's R&D center and other subsidiaries: this is one of Evonik's largest sites with 5,000 employees. As well as the senior management, Building 660 where we met houses the CyPlus applied technology department. The company has 60 direct employees and uses many other services from Evonik based at production sites in Europe and sales and distribution offices around the world.
Precious Metal Connections
CyPlus sees itself primarily as a toxic chemicals producer so ensuring safe material supply, use and disposal is essential to stay in business, said Harenburg. Providing consultancy and collaborative practical services to customers for the life of supply is therefore beneficial for both parties. Feedback from customers has helped the company improve its products and delivery systems and may also enable the supplier to help the customer solve process problems.
Chemical and pharmaceutical intermediates producers and the metals surface treatment industry are important customer groups but approximately two-thirds of cyanide deliveries go to the precious metals mining industry, mainly to gold mines but also and increasingly to silver leaching operations. These operations account for an even higher proportion, more than 80%, of the take up of the CyPlus technology services which cover the cyanide life cycle from delivery through to disposal.
Mr Harenburg commented that industry has made slow but steady progress in the implementation of cyanide management systems during the past 20 years and has also learned to communicate these improvements more effectively. From 2000 this progress underpinned work on the voluntary International Cyanide Management Code introduced in 2003 which has been very successful in reducing the incidence of cyanide related accidents. Even so, with 70% of sodium cyanide sales going to precious metals mining operations, CyPlus continues to monitor "cyanide incidents" worldwide. Collaborative work on safety issues by an international CN Sector Group continues as part of the European Chemical Industry Council (Cefic) in Brussels. It's costly, time-consuming but valuable, commented Harenburg.
A Choice of Processes
The CyPlus applied technology department is particularly concerned with providing solutions for effluent treatment and can draw on a long historical involvement with the chemical industry's own potential adverse environmental impacts, not least in Germany. Since product decomposition leads to prohibitively high reagent consumption in most conventional treatment methods, such as hydrogen peroxide (H2O2), CyPlus has developed Cyanide Effluent Treatment (CET) processes that are suitable for the treatment of cyanide-containing ore pulps, including the Caro's Acid and the Cyanide Recovery process. After collaborating in this field with Inco Tech, Canada for many years, CyPlus developed the CombinOx® process together with them and then acquired the know-how for designing and operating the SO2/AIR process.
The CyPlus® processes are especially suitable for treating cyanide-containing effluents from ore processing operations in order to comply with stringent limits such as those set by the International Cyanide Management Code, the World Bank, EU Mines Waste Directive and local authorities.
Process selection for a given application is based on feasibility studies conducted by CyPlus in its laboratories in Germany. These compare various process options for the treatment of cyanidecontaining ore pulps, including the following processes: CyPlus® Hot Caro's Acid process, CyPlus® Cold Caro's Acid process, CyPlus® SO2/AIR process, CombinOx® process and the CyPlus® Cyanide Recovery process. The CyPlus Cold Caro's Acid, the CyPlus SO2/AIR and CombinOx processes are usually by far the most viable processes..
Performed on the effluent or generated effluent after leaching on representative samples, the feasibility study clearly illustrates which of the processes can reach the desired discharge limits for cyanide most effectively. It also compares the operating costs, mainly the consumption of treatment reagents as well as the investment costs. Ultimately, the most economic and suitable process is recommended.
The feasibility study is performed in continuous mode to generate the process parameters that will enable meaningful scale-up for engineering. It is also important to use representative chemicals as applied on a large scale to obtain representative results. After the feasibility study has been performed, a basic engineering package is prepared on the process of choice to accommodate a reliable up-scale to the site-specific conditions. Finally, tailor-made equipment (e.g. CyPlus Caro's Acid Generator) is constructed, installed and commissioned on site. The design incorporates state-of-the-art safety features and modern reliable material of construction.
Cold Caro's Proves Cool
Caro's Acid, or peroxymonosulphuric acid, is a powerful oxidant that is produced in situ by adding hydrogen peroxide to concentrated sulphuric acid. For efficiency reasons, it is recommended that the peroxide be in the form of 70% strength and that the sulphuric acid be at least 93%. Once the components are mixed, great care must be taken to accommodate the heat generated. The resulting solution containing the H
2
SO
5
, along with unreacted peroxide, excess sulphuric acid and water, can then be used as a powerful oxidiser, for example, to oxidise cyanide to cyanate:
Used in a wide range of industrial applications, Caro's Acid has more recently been applied at precious metal mines to treat cyanide-containing effluents. Applying decades of experience in the manufacturing of persulphate compounds, CyPlus engineered the CyPlus® line of Caro's Acid generators using proprietary technologies designed to generate peroxymonosulphuric acid safely, efficiently and economically at the customer's site.
The company custom designs generators for specific applications, constructing either a conventional "Hot" Caro's Acid generator or more frequently the proprietary high yield CyPlus "Cold" Caro's Acid generator. Generally, the difference between these two generators is the amount of H
2
SO
5
yielded from the reactants, H
2
O
2
and H
2
SO
4
. Two recently commissioned large scale applications in Brazil are examples of where the "Cold" process can outperform the other effluent-treatment systems. Based on CyPlus feasibility studies both replaced conventional "Hot" Caro's Acid systems, enabling a direct comparison of reagent savings with the CyPlus Cold Caro's Acid systems (see E&MJ, October 2009, p. 87).
The high yield CyPlus Cold Caro's Acid generator produces a more concentrated H
2
SO
5
solution than the conventional CyPlus "Hot" Caro's acid generator. A yield of > 80% is achieved using the CyPlus Cold Caro's Acid generator compared to a yield of only 30-40% using the conventional "Hot" CyPlus Caro's acid generator. This results in an overall reduction in reagent consumption of over 30% at both the installations in Brazil while achieving the same low cyanide levels of 10 ppm CNtotal or better at both applications.
Stephen Gos concludes that it has been proven that the economic success and compliant operation of a Cyanide Effluent Treatment plant in the mining industry strongly depend on a reliable feasibility study comparing different treatment technologies, a reliable scale-up and the application of state-of-the-art and tailor-made equipment.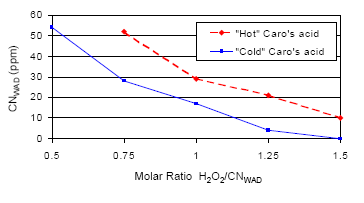 Looking Forward
The concept of protecting future business has encouraged CyPlus to look at possible replacements for cyanide extractants in precious metals recovery. So far the studies have indicated that present alternative solvents are equally toxic and less easy to treat than sodium cyanide. The main focus of R&D therefore continues to be making the application and disposal of cyanide safer, for instance in the treatment of more complex ore pulps. Meanwhile a cyanide regeneration process, with environmental more than economic advantages, is under development. The technology is established but needs improvement. But a "green" extractant remains the key solution.
CyPlus is a worldwide leading company in cyanides. The wholly owned Evonik group subsidiary supplies products to customers in the mining, chemical, pharmaceutical, and surface treatment industries. The company meets the extensive and strict requirements of the international gold mining industry as a supplier of cyanides in accordance with the provisions of the "International Cyanide Management Code" (ICMC). 60 employees worldwide, production sites in Europe and sales and distribution offices on all continents provide customers swift and reliable service. CyPlus regards itself as the pacesetter of progress and sustainability in the industry.